TIERRADENTRO
2021, curated by Anaïs Lepage, Drawing Lab Paris. France.


The tittle Tierradentro —"the land of the interior"— derives from an archaeological site located in the north of the Andes in Cauca, Colombia. Protected by its monumental sculptures and its underground tombs, it shelters the vestiges of a vast pre-Hispanic culture known only by fragments.

As point of departure, Daniel Otero Torres updates pre- Columbian knowledge and legends from various regions of Latin America; imagines correspondences with archaic cultures around the Mediterranean, draws inspiration from Hindu and Egyptian deities, and weaves parallels with contemporary events and experiences that are personal to him. Borrowing the gaze of the anthropologist, the naturalist, the physicist, or even the reader of science fiction, he elaborates a hybrid and impure cosmogony made of rubbings and reconciliations.

His practice is thus that of fragmentation, collusion and detail. Each drawing is the result of a process of collecting archival or media images and photographs taken throughout his travels, which he combines into heterogeneous compositions. These combinations are then deployed, enlarged or miniaturized. Stripped of all contextual elements and transposed through the drawing on paper, stainless steel and ceramics.

Through various narrative paths —the forgotten female fighters during the conflicts of the XXth century, the psychotropic powers of the Brugmansia plant, the transformations of the jaguar man, the genetic variations at the origin of the evolution of the species, or the stray dogs answering to multiple names— the exhibition explores the themes of the journey between worlds, the links between sacred and profane, between vernacular cultures and global thinking, between intimate recalls and collective memory.

Tierradentro generates a new system of relationships between time and beings. It is a space where an alternative history of crossings and syncretisms is produced; where the stake is to reflect on what connects us to others from the point of view of the myth, of the political struggles, as much as of the affective and daily life. A place, a vessel, a feeling and a planet, for Daniel Otero Torres, Tierradentro is all of these at once.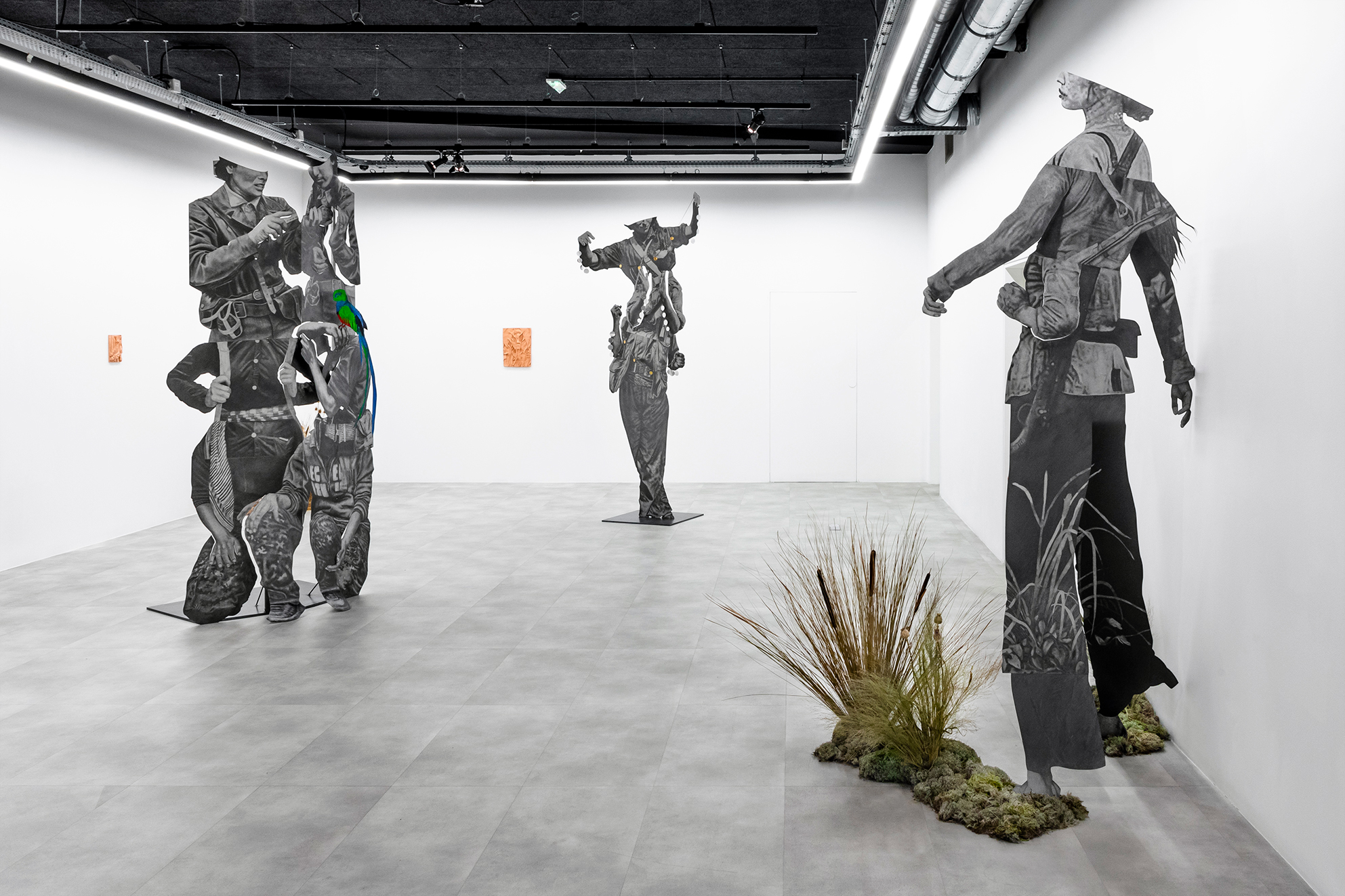 Exhibition view, Tierradentro, curated by Anaïs Lepage, Drawing Lab Paris. France © Olivier Lechat
Exhibition view, Tierradentro, curated by Anaïs Lepage Drawing Lab Paris, France







.
HAVE YOU SEEN A HORIZON LATELY ?
2020, curated by Marie-Ann Yemsi, MACAAL, Morocco


With a work grounded in anthropology and multiple expeditions between France and his home country of Colombia, Daniel Otero Torres invites the spectator to rethink the image of a stranger, of otherness. His work oscillates between drawing, photography, collage, sculpture and installation, obscuring all boundaries and operating shifts from one medium to another, one culture to another, one continent to another. In his early pieces, the artist worked form images created or collected during his research among indigenous American populations to construct unexpected assemblages, like chimeras, in which opposite worlds collide.

Since 2017, Daniel Otero Torres has undertaken Asentamientos (Settlements), a research project based upon vernacular architecture of different regions of Colombia. With this project, sponsored by the institute Français program Hors les murs, the artist explores informal housing as imagined and built by social minorities to appropriate an urban space for themselves, in order to adapt within a hostile environment. Like a survival aesthetic, these precarious structures reveal the ingenuity of marginal populations, as demonstrated by the artwork Lluvia (Rain, 2019). This monumental installation is composed of a wood-and-sheet metal framework, upon which streams of water run off to an array of perforated drums, of varying size and material (plastic, metal). As in a domino effect, the water travels across the structure to ultimately reach the basin from which the construction emerges.

This strange fountain is inspired by an encounter between the artist and the Embera community, on the banks of the Atrato River, where he was studying their system for recycling rainwater. This architecture, made of humble and/or recycled materials, is both convoluted and ingenious, acting as a collection as well as a sanitation device, designed to purify water for consumption. In one of the most water-abundant regions of Latin America, populations are forced to invent techniques and imagine systems of adaptation in an environment that has been polluted by illegal gold mining. Lluvia is impressive, both in terms of scale and the familiar sound of rain emanating from it. The spectator is plunged into a state of meditative reflection upon the process of resistance and survival developed among marginal populations when confronted with a contemporary and universal issue: the scarcity of basic need resources.


Exhibition view, HAVE YOU SEEN A HORIZON LATELY?, curated by Marie-Ann Yemsi, MACAAL, Morocco



Work: Lluvia, 2020, mixed media,
435 x 610 x 700 cm. © Omar-Tajmouati




Detail I Lluvia, 2020, mixed media, 435 x 610 x 700 cm



Detail I Lluvia, 2020, mixed media, 435 x 610 x 700 cm
.




ASÍ FUE

2019, The Pill, Istanbul

On the occasion of his first solo show in Istanbul Así fue, the artist will present a new body of works he produced while in residency in Turkey during 2019.
He developed a mythology inspired by his research on the public policies of Turkey's 'Kôy Village Institute'. These policies were enacted in the 40's in order to develop education in the rural zones. Despite their short lifespan, they significantly increased the number of primary schools in the country and their buildings grew exponentially within the decade in which they existed. They were later closed by the conventional political parties.

The corpus of works represent both the people and the processes integral to the construction of these institutes. The central goddess figure is made of a sum of portraits of Anatolian peasants involved in the constructions. The Graduate is composed of different student's archives while playing an instrument in the schools.

The forms of the ceramic stray dogs are inspired from Hittite and ancient South American sculptures. Found in different countries and specially in Istambul, these dogs without master inhabit and guard the exhibition.



Exhibition view, Así Fue, The Pill, Istambul




Chiens sans maître (II), 2019, ceramic, 70 x 49 x 18 cm.




Ella, 2019, drawing on mirror polished stainless steel, stainless steel, 114 x 238 x 114 cm.




Detail I Ella, 2019, drawing on mirror polished stainless steel, stainless steel, 114 x 238 x 114 cm.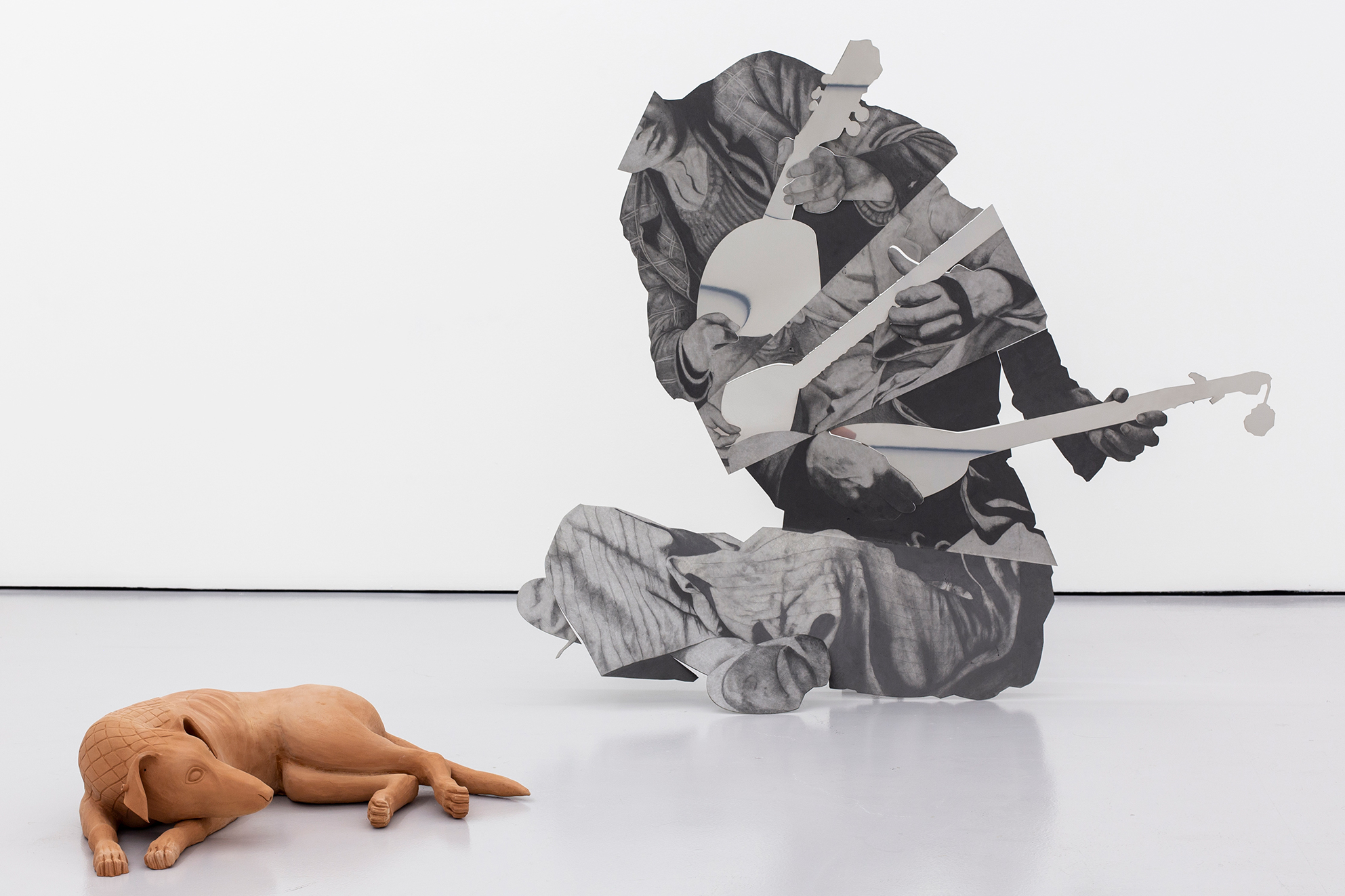 Chiens sans maître (III), 2019, ceramic, 66 x 49 x 18 cm.
El Graduado, 2019, mirror polished stainless steel, 122 x 140 x 30 cm.

Exhibition view, Así Fue, The Pill, Istambul

Amapolas, 2019, ceramic, variable dimensions.



Observatorio, 2017, graphite on paper 154,5 x 114,5 cm.

Exhibition view, Así Fue, The Pill, Istambul.


.





PAROXYSM OF SUBLIME


2019, curated by Anna Milone et Ana Iwataki, Welcome to LACE with Flax Foundation, Los Angeles.



The mobile El Borrachero is a series of arms drawn by pencil on aluminum sheets, depicting the men in the photograph "Machetes" by Sady González taken in Bogotá on April 9, 1948. On this date Jorge Eliecer Gaitán, the Colombian liberal presidential candidate was murdered sparking massive and violent riots in Bogotá called "El Bogotazo". This episode was followed by decades of violence during the period known as "La Violencia".
In this work, the artist has torn the machetes and weapons from their hands. They are floating in mid-air with brugmansias, also called Angel's trumpets and "borrachero" in Colombia. This beautiful yet poisonous flower originates from South America near the Andes and now also blooms in the streets of Los Angeles.
The mesmerizing movement of the elements around the borrachero flower evokes violence as a senseless form of inebriation. The artist takes an interest in images from the past and their ability to intervene in the present.


Exhibition view, PAROXYSM OF SUBLIME,curated by Anna Milone et Ana Iwataki, Welcome to Lace with Flax foundation, Los Angeles.
Detail I Borrachero, 2019, pencil and colored pencil on aluminium, nylon, steel, 700 x 310 x 300 cm.
.
(DÉ)PLACEMENTS
2017, Curated by Sandra Patron, MRAC / Musée régional d'art contemporain, Occitanie / Pyrénées - Méditerranée, Sérignan


From image to sculpture, from a European to a South American culture, from real to its representation, from the original to the copy, Daniel Otero Torres never ceases to question what is the basis of our relationship to the other and how this silent way of seeing is transformed according to social, political and cultural contexts.

With the project (Dé)placements, Daniel Otero Torres began a research on vernacular architecture in Colombia such as the self-built buildings occupying the foothills of cities. With remarkable know-how, this way of living enables individuals to develop forms of resistance by recovering independently. In Bogotá, these shantytowns are called «Invasiones», a term with pejorative connotations that allows to better understand how these neighborhoods are considered by the powers in place: the word is reminiscent of a terminology used both in Europe and in the United States to designate any foreign body as a creeping threat.

In one of the pieces from this project, a bamboo scaffolding like those used across Asia stands imposing in the middle of the space. The half-built house suspended in the middle seems literally invaded by the bamboo structure, offering a reversal of perspective as to its original function. The scaffolding used to build the house has instead swallowed it. On both sides of this installation, Daniel Otero Torres positioned two chairs, which usually house the museum wardens in the exhibition halls. On one of them, in place of the traditional guardian, is a character encountered during a stay of the artist in an Indian community in Colombia, a wandering person who lives a life away from any material concern. To face it is to face an individual who has deliberately made the choice to get away from the logic of our contemporary societies, but it means also to take a look at this figure of the largely ignored museum keeper. On the other chair, a pile of postcards available to the public seems to invite us to travel: the image of a bus named Christopher Columbus unveils humorously how the tourism industry dismisses plays with the cliché of the exotic and that of great discoveries.

Exhibition view, (Dé)placements, curated by Sandra Patron, MRAC Sérignan, France © Aurelien Mole
Detail I 1:12.5, 2017, bamboo, 3500 bricks of terracota, concrete, steel, mixed media, 300 x 310 x 300 cm. © Aurelien Mole
El Parce,
2017, pencil on aluminium, steel, 50 x 131 x 60 cm (x 2).
BCC, 2017, inkjet on paper, 15 x 10 cm (postal card), steel, © Aurelien Mole



1:12.5, 2017, bamboo, 3500 bricks of terracota, concrete, steel, mixed media, 300 x 310 x 300 cm.
.
LES JOURS DE PLEINE LUNE #22

2019, curated by Pietro Della Giustina, La Tôlerie, Clermont Ferrand, France
Work: Lluvia, 2019, Mixed media, 709 x 510 x 709 cm.
.

RENDEZ VOUS 15

Jeune création internationale Biennale de Lyon 2015, Institut d'art contemporain - Villeurbanne/ Rhône-Alpes.
Exhibition view




Detail I 1: 27,78, 2015, concrete, mortrier, steel, inox, 145 x 114 x 120 cm.
Jardin, Inkjet prints (wallpaper) and print on plexiglass, 360 cm x 450 cm / 126,3 x 190 cm © Emile Ouroumov



Homme assis, 2015, pencil on aluminium, steel, glass, human size.
.








ESCALERA & ESCALERA (2)

2018, contreplaqué, matériaux de maquettiste, acrylique, béton, sable, acier, resiplatre, acier,
28 x 135 x 33 cm / à droite: 40 x 135 x 34 cm.


.
DOS MÁS

2020, Graphite and color pencil on steel, 17 x 40 x 21 cm.
.
TIEMPO SIN VERTE

2018, pencil on aluminium, glass, plantes, steel, 86 x 160 x 49 cm.